We are seeking financial support from individuals and organizations who share our passion to help us continue on our journey of roller derby success! All travel and equipment expenses are currently funded by the skaters themselves; donations will reduce the financial burden on athletes.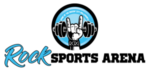 Rockin' City is committed to developing their skating skills on the track and serving their community off the track. Through our corporation and 501(c)(3) status, we alone operate Rock Sports Arena and manage all of its tenants. By sponsoring Rockin' City, your contribution will serve to maintain the family we have built at Rock Sports Arena.
Thank you to our Sponsors!