REC League StartS on SEPT 18th!
Whether you are a skater who thinks roller derby sounds fun, or a veteran skater returning to derby, we welcome you! We teach our skaters derby from the ground up – that means everything from derby skills and rules to those big hits you've heard about. Our 10 week program is designed for beginner to intermediate level derby skaters and is a great opportunity for veteran skaters to get back in shape, have fun with derby, and mentor up and comers! The best way to learn derby is to play derby so we've incorporated lots of scrimmage time into our program.
~ Orientation: September 15th, 7-9pm Join us for Skate Maintenance 101 & Session Orientation!
~ Dates: September 18th – December 4th (scrimmage day) – off Nov 24th
~ Location: Round Rock Sports Area, 3918 Gattis School Rd #102, Round Rock, TX 78664
~ Practice Times: Sundays 9-11am & Thursdays 7pm-9pm)
~ Open to all genders; ages 18+
~ For derby you need full gear: skates, wrist guards, elbow pads, knee pads, helmet, mouth guard. If you don't have gear you can borrow ours but plan to get your own mouth guard.
~ Skaters should be able to stand, stride and stop comfortably without assistance before joining Rec League
~ Cost: $150 for 10-week session (19 practices + friends/family scrimmage at end) We have scholarships available!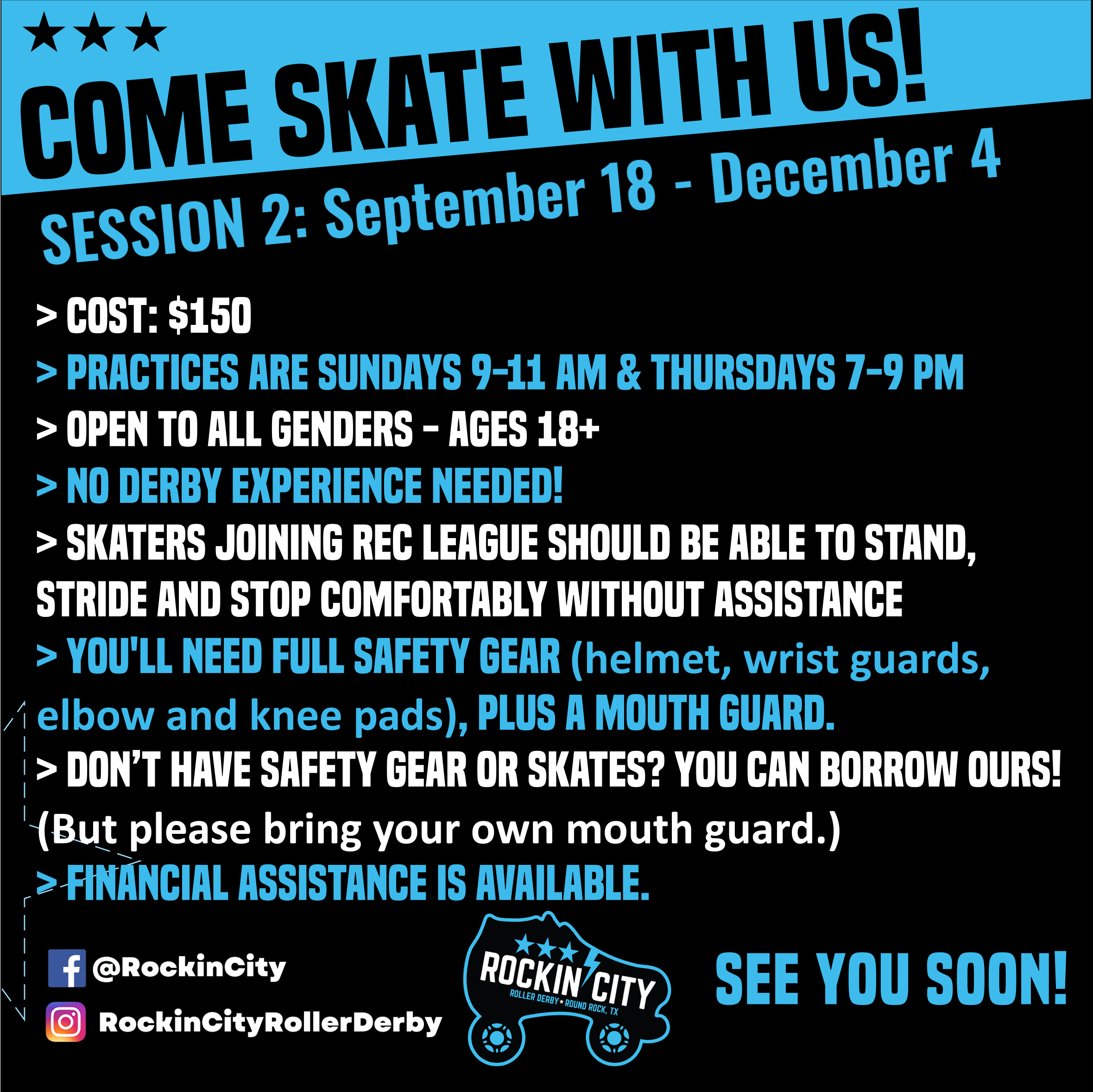 Thank you to our Sponsors!
We appreciate every single one of you and you make a valuable difference in our community. Thank you for supporting us in all that we do.